I've always said that if you live in this town for too long, you'll start to forget how to get anywhere. Since the roads are constantly under construction, you'll have to unlearn the old way to get around and learn a new one. It starts to get a little difficult once you remember at least three different ways that used to be the best way to get from one place to another.
Speaking of, you'll need to forget everything you knew about the I-10 and I-95 interchange. It's all going to be different, soon, and so too will the entire area bounded by the Fuller Warren, U.S. 17, and McDuff.
That said, it could be worse. At the very least, we've been lucky that the city of Jacksonville has kept up with the required road updates that come along with the expansive development we've experienced over the last few decades. Traffic really hasn't gotten worse, and in many places it is dramatically improved. Additional highways, toll lanes, and the completion of I-295 have done wonders for many parts of town.
Or maybe it doesn't exist anymore
While the big orange dinosaur is still out on Beach Boulevard, the big orange mall that used to be downtown is no more. Mayor Curry seems to enjoy demolition more than he enjoys building things, so he was quick to have The Landing torn down when a dispute came up with the property managers.
Google maps has a great picture of it, but I'm sure their street view will be updated soon enough so I've saved it here: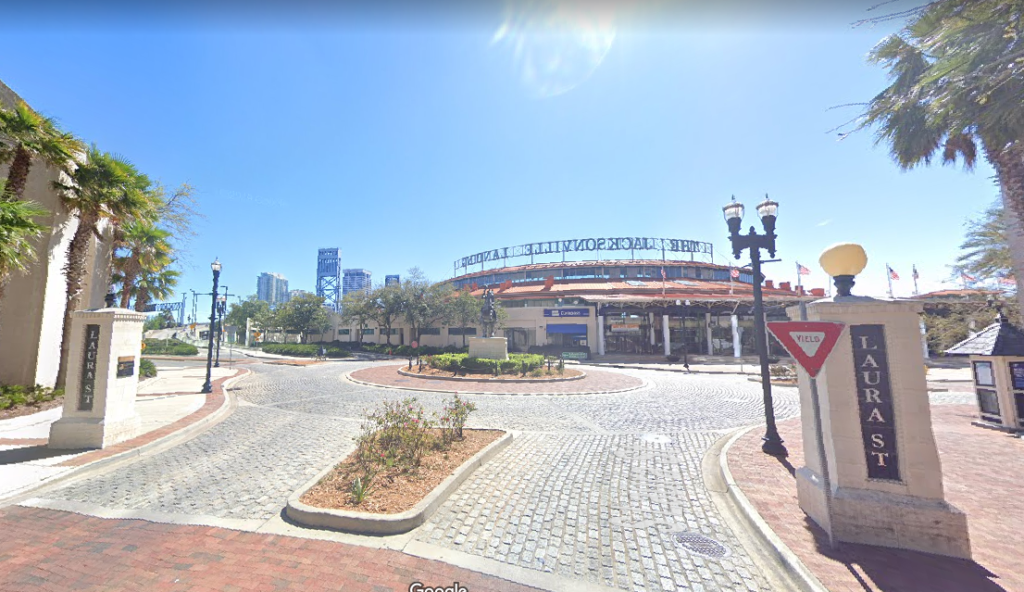 Oh and did I mention that the Mayor knocked over the land bridge at the Hart Expressway? This is supposed to gin up traffic around the new entertainment district at the Sports Complex, but that new project was never finalized before the pandemic hit. It wasn't terribly popular either, considering how little money the city has made off of Daly's Place and the other construction ventures subsidized on Khan's behalf.
The one that never got done
The most infamous construction headache in Jacksonville, Florida, is probably the Berkman II highrise. It's been sitting, unfinished, for more than a decade.
This project had big hopes for downtown real estate during the last property boom, but a parking garage collapsed during construction and the condo tower was never finished. It's been sitting on the riverfront, half-done, for about 12 years now. I'm pretty sure the company that built it went out of business at least three times, since.
At some point, another company came and bought out the unfinished frame. Based on their prior successes in renovating old buildings, they thought this one would be a quick and easy profit. Well, that was over two years ago. Then they stopped paying their property taxes on the lot.